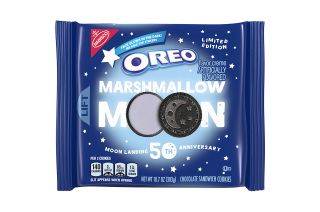 The limited variant Oreo Marshmallow Moon biscuits will include three embossed, moon landing-themed layouts.
(Picture: © Nabisco)
Nabisco is launching a yummy tribute to the 50th anniversary of the first moon landing.
The snack firm on Tuesday (May 14) shown its forthcoming release of Oreo Marshmallow Moon cookies. The brand new limited edition flavor is set to land on store shelves in mid-June, just in time to observe the Apollo 11 assignment that delivered the first people to the surface of the sky on July (************************************************************), respectively 1969.
Marshmallow Moon flavored Oreos"feature three fun, moon landing designs on the cookie cutter with tasty purple marshmallow creme inside," a spokesperson wrote in an email to collectSPACE. "Plus, the cookies will arrive from glow in the dark packaging together with anniversary sticker sets on pack."
The packaging for the Marshmallow Moon Oreos shows among those three cookie layouts within — a waning crescent moon with three celebrities. Both embossed themes include an Apollo-like spacesuited astronaut position with means of a flag with stars and a mythical world from the sky and a space shuttle blasting through a field of stars and planets.
The pack, which includes phosphorescent ink so that it shines in the dark, also includes the inscription,"Moon Landing 50th Anniversary."
Although the arrival of Oreos at 1912 predates the Apollo 11 assignment by a few 57 decades, astronauts Neil Armstrong, Buzz Aldrin and Michael Collins did not possess the chocolate sandwich snacks on board their spacecraft to relish on the journey to the moon and back. They did have cookies, though, in the form of sugar biscuits.
That isn't the first time which Oreo has paid tribute to space exploration background. Back in August 2012, the cookie brand distinguished NASA's Curiosity rover landing on Mars using a"#dailytwist" social networking post that revealed an Oreo using rover tracks from the cookie of red-colored creme.
Oreo created a similar picture to honor Armstrong after his death on Aug. 25, 2012. "To the guy who made us believe in the impossible," the cookie manufacturer wrote, including"celebrating an American hero" as part of the picture that revealed the overdue Apollo 11 commander's spacesuited shadow cast on the snowy creme of an Oreo cookie.
Oreo is the newest brand to generate a limited edition that provides in commemoration of the first lunar landing 50past anniversary. Other companies which are marketing the moon milestone comprise Budweiser, Fisher Space Pen, Omega watches and Zippo lighters.
Follow collectSPACE.com on Facebook and on Twitter at @collectSPACE. Copyright 2019 collectSPACE.com. All rights reserved.